The mediterranean sea is a vast blue water area with its own unique set of islands and beachfront to visit. These iconic areas have attracted thousands in the past decades, and some are perfect for family vacations while others are more suitable for solo travelers. Whatever type you're looking for, these beaches are bound to please you.
1 – Malta, 
Malta is an archipelago that consists of three islands; Malta, Gozo, and Comino. The main island of Malta itself is one of the most famous tourist destinations globally, with plenty to offer for vacationing families and couples alike.
Ancient ruins, a luxurious capital city, tons of beaches, and vibrant nightlife will be offered when visiting this beautiful part of southern Europe.
2 – Ibiza
Ibiza is known throughout the world as a party island, but it has so much more to offer than just raving nightclubs.
This beautiful area has some breathtaking landscapes ranging from mountains to valleys while also having some great stretches of coastline along its own little corner of the mediterranean sea.
Ibiza is a well-loved tourist destination, and there are plenty of options for all types of travel here; whether it's clubs and parties or family fun and relaxation, this island has it all.
3 – Rome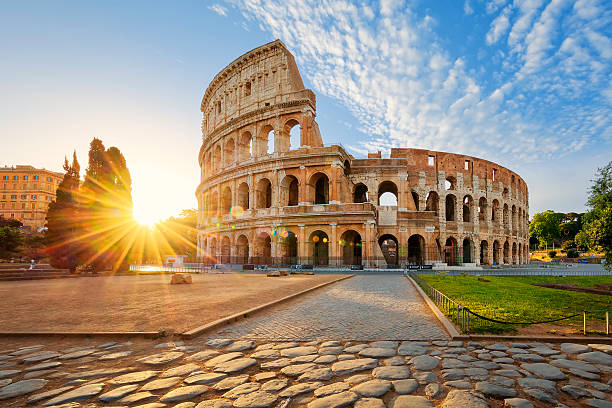 Rome is one of the most famous city's in Italy, and its beautiful beaches make it even easier to fall in love with.
Romans are an amiable group of people, so you can expect to enjoy your stay here immensely regardless if it's for business or pleasure. Rome has some great options for overnight stays at a very affordable price as well.
4 – Majorca, 
Majorca is another Party Island like Ibiza but much larger and more popular around the world.
This island finds itself very near the western part of Spain, making it quite accessible to worldwide travelers when traveling here. Majorca is likely not an area that children will enjoy due to its party atmosphere, but it certainly is an experience that many will remember for a lifetime.
5 – Corfu
 Corfu is another party island in the mediterranean sea. Still, this one seems to focus more on family-friendly vacationing, which makes it perfect for those looking to visit some of Europe's popular beaches without having to worry about finding somewhere else they can enjoy their vacation with their children.
Visitors and locals alike find themselves drawn toward this beautiful place and its local cuisine, which has been enjoyed by everyone who visits since ancient times. It doesn't matter if you're here for partying or relaxation. It's an excellent getaway, no matter how you view your stay in Corfu.
6 – Ischia
Ischia is another party Mediterranean island, but it has a very different feel to its atmosphere. It's the perfect place for couples looking to enjoy a relaxing vacation and even has some great options when it comes down to finding comfortable accommodation for you and your loved one.
The canals of this particular area are worth noting because they make transportation around the island quite easy.
7 – Lefkada,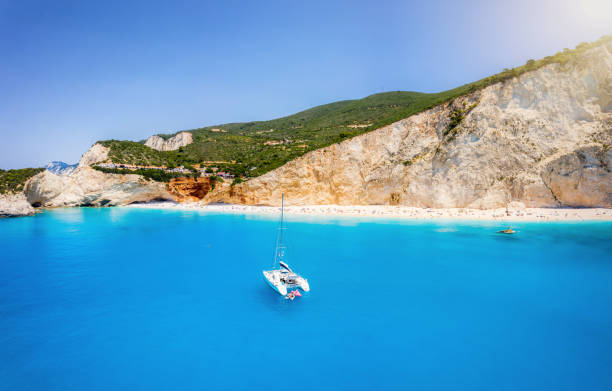 Lefkada is a Greek Island that takes on the appearance of many of Greece's other islands in Italy and France, with white stucco buildings making up most of their metropolitan areas and beaches being mostly occupied by blue waters instead of palm trees like Tunisia or Egypt would offer.
The nightlife here is very active, and the island's rural areas seem to give off an aura of tranquility.
8 – Mykonos, 
Mykonos seems to be one of Greece's most popular Mediterranean islands since it's been chosen as many people's vacationing destination for years due to its breathtaking scenic views and vibrant nightlife.
There are plenty of things to do when visiting this picture-perfect island and lots of things that can be purchased with your spending money so, prepare yourself for some vigorous shopping!
9 – Corcyra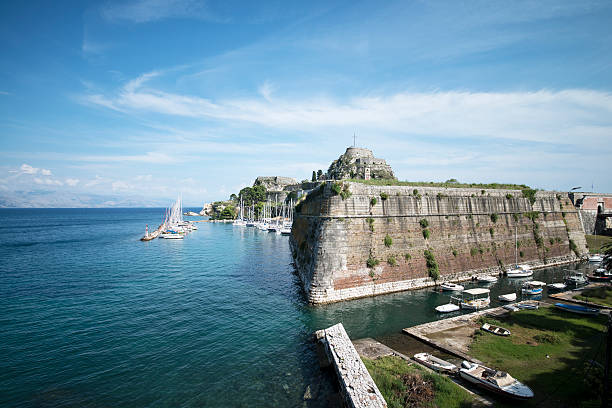 Corcyra has been famous for its beaches and its natural beauty, including mountains regions where you can enjoy hiking and waterfalls for those who enjoy going on adventurous trips.
10 – Kos, 
Kos is very close to Turkey, making it highly accessible for travelers coming from this area of the world while also providing plenty of options when it comes down to entertainment.
The island's beaches are top-notch as well since their crystal clear blue waters are perfect for any water sports enthusiast and, in general, will offer a whole lot more than just some good old-fashioned sunbathing.
11 – Lampedusa,   
Lampedusa often finds itself only slightly off of the coast of Tunisia, making it a popular tourist destination for those coming in from Africa.
This island's options when it comes to entertainment are not so great. Still, the restaurants serving their local cuisine are more than enough reason for you to come and experience Lampedusa while visiting Italy. You're likely going to be very surprised at how much this area can offer.
12 – Oia,   
Oia is another Mediterranean party place on our list. Still, its white stucco buildings seem almost dreamlike as they loom over the picturesque blue waters below if you make your way all the way up one of the many mountain trails in the area.  
13 – Paros, 
If you're looking for a relaxing place in the Mediterranean that still has plenty to offer when it comes down to entertainment, then this is your destination! The nightlife here is quite lively, and there are more than enough things going on for everyone who visits here. It's also one of the most popular destinations on our list, so there should be some minimal amount of effort put into finding accommodation for your trip if you're not staying with family or friends.
14 – Skopelos,   
  Skopelos offers a neat alternative to Mykonos by offering those who visit an entire variety of activities, including hiking and water sports.  The addition of a beautiful blue beach also sweetens the pot for sure.
15 – Syros, 
These two Mediterranean islands are often considered right next door to one another, but in reality, they're separated by only a bridge that's connected them since antiquity.  They both offer very similar things, except Syros has a far more historical feel to its buildings and areas. 16 – Zakynthos,   
  This island offers plenty of entertainment because you can find some fascinating beaches on it while also enjoying some nightlife as well. The nightlife here is rather lively, but if you get sick of this type of environment, there are still many great restaurants where you can enjoy dinner or, in some cases, even breakfast.
17 – Rhodes,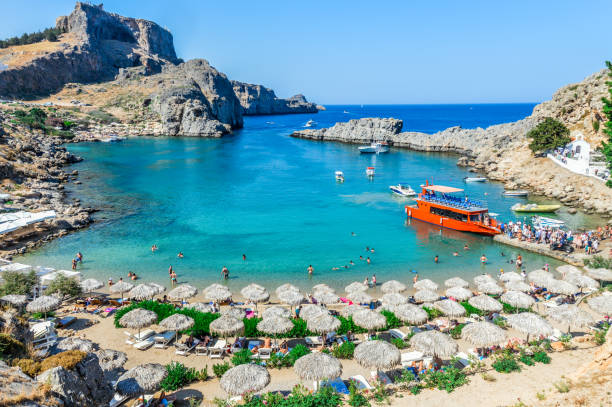 Rhodes offers various things to do whether you're looking for an active time or want to relax and have some fun.  The beaches here are great since they offer crystal clear waters for enjoying water sports and plenty of relaxation opportunities. The nightlife is also vivacious in this area, with many things going on at once, including casinos and clubs where you can enjoy one of your favorite drinks while dancing the night away! This island seems like it would be perfect for anyone who doesn't particularly care about partying but still wants to take part in some entertainment during their stay in Greece.
18 – Naxos,
These two Mediterranean islands are often considered right next door to one another, but in reality, they're separated by only a bridge that's connected them since antiquity. They both offer very similar things, except Syros has a far more historical feel to its buildings and areas.
19 – Crete,
Crete offers various entertainment, from historical ruins to some beautiful beaches that make you feel like you're on some postcard! The nightlife here is also quite lively, so if you want to have fun at night, this is your best bet.
20 – Karpathos.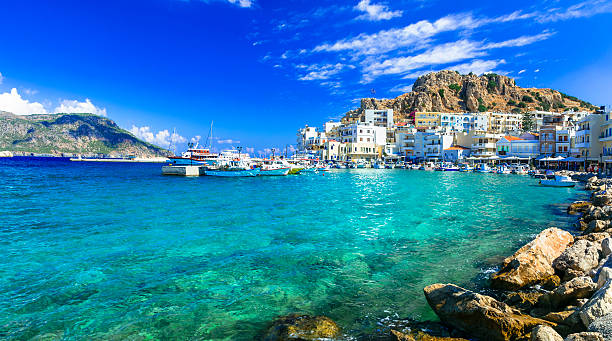 Karpathos has plenty of activities for anyone who wants to do them, whether water sports or simply relaxing in one of the many local cafes and restaurants. This island's beaches are often considered some of the most attractive in Greece, which adds even more value to an already fantastic place by the sea!
21 – Kefalonia,  
If you're looking for a beautiful Mediterranean place with plenty to offer, then this is your destination! Two of the most popular locations are Sami and Lixouri, where you can enjoy some fantastic beaches or rent a boat to take out onto the water. The nightlife here is also quite active, and there.
22 – Mytilini,
Some people consider this a part of Lesvos, but it's often separated from it due to its size due to its size.  The nightlife is still quite lively here, although not many clubs are open past midnight, so if you want to party all night, then your best bet will be staying on Lesvos instead.
23 – Limnos,
This Mediterranean island offers plenty of relaxing activities that you can enjoy during your trip. Its main attractions include the beaches and the various types of archaeological ruins you can find on it.  
24 – Lesvos,  (Mytilini)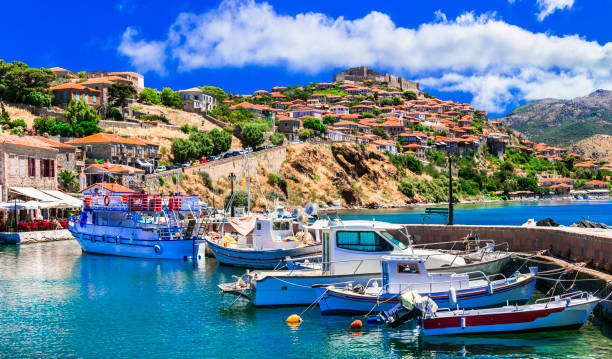 Lesvos offers plenty of things for people who want to stay busy during their vacations, such as numerous activities or simply relaxing on the beach while having some drinks with friends. The main attraction here has got to be the city of Mytilini, located near Molyvos, rich with cultural monuments and historical sites that will make you feel like stepping into a different time period.
25 – Diapontia Islands,  (Aegean Sea)   
This group of islands is located in the middle of the Aegean sea and offers plenty of activities for those who want to have fun during their stay here while also giving you plenty of time to relax on its gorgeous beaches as well. The main attractions here include the various types of historical ruins left behind by civilizations from ages past.  
26 – Zakinthos
Zakinthos has been considered one of the most beautiful islands in Greece since antiquity. Still, it'sit's not just famous for its great looks it's also very rich in a culture which makes it a great place to visit at any time of the year but surely in the summer when its beaches and waters will attract even more activity here.
27 – Ithaca, (Crete)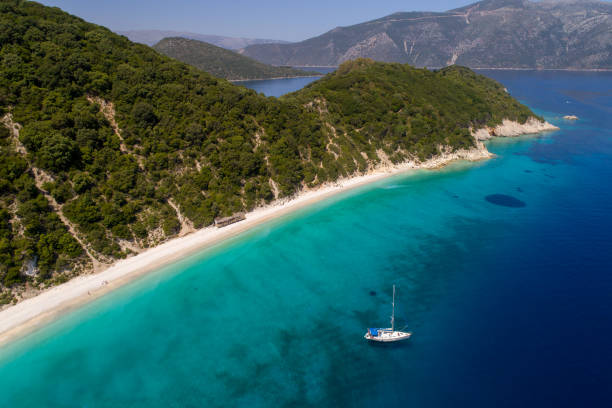 This island is one of the farthest islands away from Athens, which makes it feel like you're truly transported into another area that's far removed from anything else you might find in Greece. T
The nightlife on this island isn't as lively as other Greek islands because most people who come here want to enjoy their vacations instead of going out every night.  
28 – Skiathos
Skiathos is a very beautiful island in Greece, and it's even more popular than many of its rivals because it offers up plenty of activities for anyone who wants to experience them.
It has a beautiful harbor that can be visited as well, where you can view some fantastic boats, swim at the beach, or try out some great restaurants while having a drink.  
29 – Andros
Andros is known as one of the largest and most beautiful islands in Greece, making it a great place to visit if you want to enjoy a more relaxed vacation.  There are plenty of activities for anyone who wants them and various cultural sites that can be visited during your stay.  
30 – Hydra, (Crete)
This island has been famous since antiquity because it used to be the home of many ancient Greeks such as Homer himself! For those who love history, this is an excellent place to visit at any time but especially when its gorgeous beaches are filled with people relaxing instead of going out at night or doing anything else that would prevent you from experiencing what this peaceful island has to offer you.